Every Child Is One Caring Adult Away from Being A Success Story
ERIE COUNTY, NY—Despite national cuts to the U.S. Department of Health and Human Services' Teen Pregnancy Prevention funding, HOPE Buffalo continues to demonstrate its firm commitment to teen pregnancy prevention.  HOPE Buffalo, a partnership between CAI and the Erie County Department of Health ("ECDOH") is a youth and community-led collaborative of over 40 diverse stakeholders: teens, adults, health care providers, educators, faith-based and community leaders. This collaboration works together to promote equitable access to high-quality and comprehensive sexuality education and reproductive health services.
On March 22nd, 2018, HOPE Buffalo will host their Annual Awards Ceremony to recognize youth, key community stakeholders and partners, health care providers, and representatives from the Buffalo Public School District and the Buffalo School Board of Education for their efforts in promoting adolescent health and wellness for teens in nine selected zip code areas in Buffalo (14201, 14204, 14206, 14207, 14208, 14209, 14211, 14213 & 14215).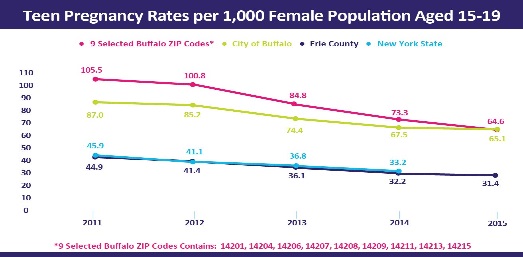 HOPE Buffalo's primary objective is to reduce teen pregnancy in Buffalo by 30% over a five-year period among females ages 15 to19.  If current trends continue, we estimate that by 2020 the teen pregnancy rate could be as low as 26.1 (26.1 pregnancies for every 1,000 adolescent females ages 15-19) in our nine targeted areas.  However, this trend is threatened due to a loss in funding, and teen pregnancy rates could easily rise again," said Stan Martin, Director of HOPE Buffalo. "Today is a time for us to recognize our achievements, address the ongoing disparities and highlight the opportunities that exist to sustain our work for generations to come."
"The efforts of ECDOH and HOPE Buffalo have not only led to reducing teen pregnancy rates, these efforts also foster a sense of purpose and hope for the future in our youth," said Dr. Gale Burstein, Commissioner of Health, ECDOH.  
HOPE Buffalo
More Information
HOPE Buffalo
PATCH Program
OAH Teen Pregnancy Prevention Program
National Campaign to Prevent Teen and Unplanned Pregnancy
The HOPE Buffalo project is supported through a grant from the U.S. Department of Health and Human Services Office of Adolescent Health to the Erie County Department of Health and CAI (Cicatelli Associates Inc.).
This publication was made possible by Grant number 5 TP1AH000106-02-00 from the HHS Office of Adolescent Health. Contents are solely the responsibility of the authors and do not necessarily represent the official views of the Department of Health and Human Services or the Office of Adolescent Health.
Sign up for our mailing list.
Stay informed about CAI's programs, news, and publications.